Web applications are frequently perfect candidates for hosting in a cloud environment. Cloud's inherent flexibility, scalability, and pay-as-you-go cost structure lend themselves well to the unpredictable demands of web applications. If you're developing a web app, there are a variety of approaches to hosting your application that you may want to consider.
A web app is any software that offers access to users through a web browser. The architecture for a web application is commonly designed with at least two logical tiers: the application tier and the storage or database tier. More complex web application architectures may deconstruct the application tier further by establishing separate web servers and back-end application servers. It's also common to start with a simplified structure for proof of concept or early production, then evolve the architecture in response to real-world demand.
Web application hosting is a broad subject with a plethora of considerations. Here are 5 best practices to consider when getting started, along with some examples of applications that are best suited for the cloud.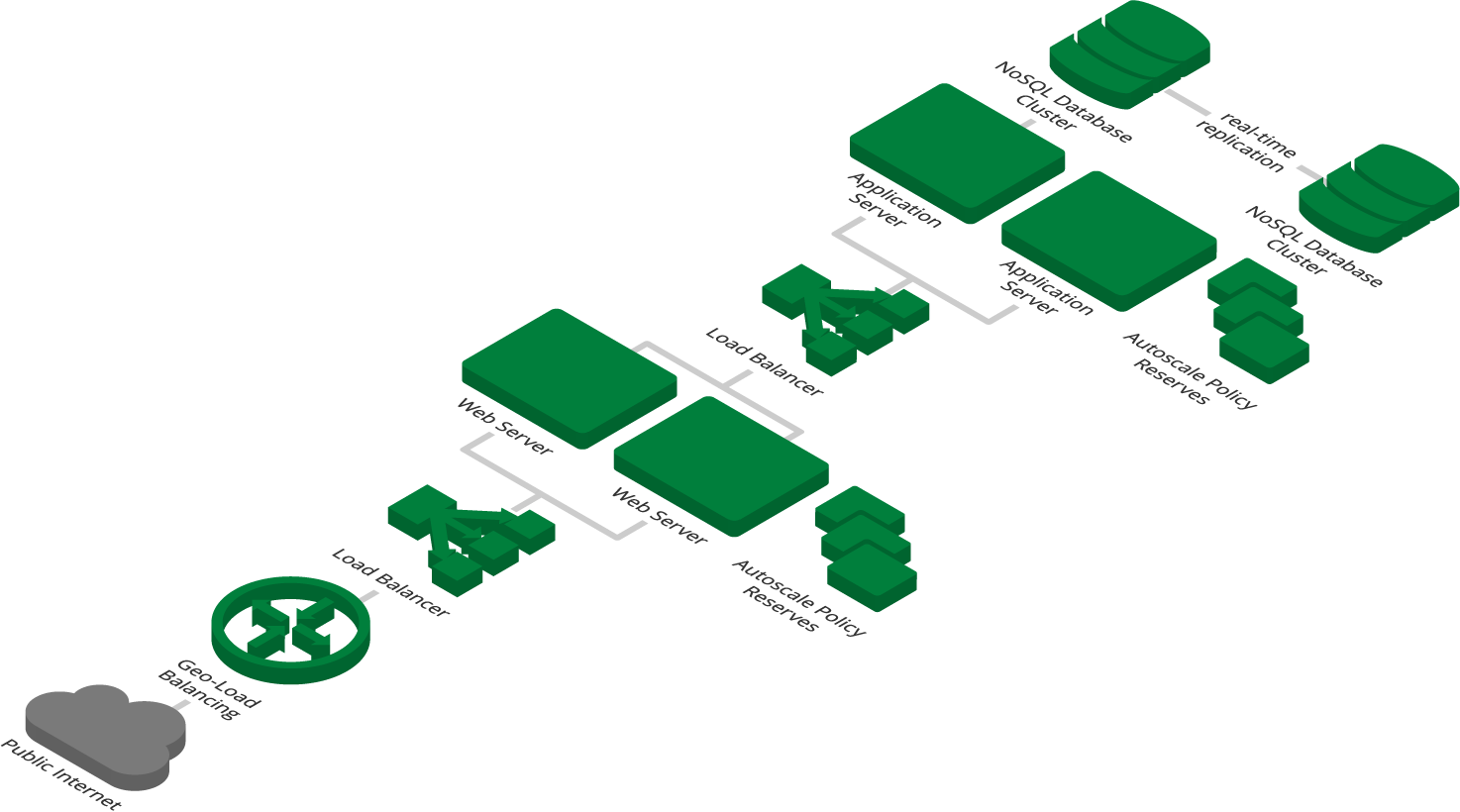 Best Practices
Geo-Load Balancing Geo-Load Balancing is available with the CenturyLink Cloud managed DNS service. Users reach your web applications reliably and quickly, regardless of physical location. Administrators can direct traffic based on several scenarios including user geography and available capacity.
Build for High Availability Incoming HTTP as well as other configured protocols are handled by either shared or dedicated load balancers. Shared load balancers are easily configurable via the CenturyLink platform management tool allowing setup in minutes. Completely customizable configurations are available with dedicated virtual load balancing product.
Scale As Needed CenturyLink Cloud Autoscale is supported in Hyperscale and Cloud Servers. Autoscale policies allow an administrator to pre-configure automatic expansion to ensure peak performance during high usage, while minimizing cost during low usage. Centurylink Cloud supports Horizontal Autoscale (additional servers) and Vertical Autoscale (additional CPU/RAM). In addition, many modern operating systems allow hot-add for CPU/RAM.
Distribute Data NoSQL databases were developed from the ground up to be distributed while supporting the ability to scale out. Advanced scaling features such as Autoscaling, distributed query support, and integrated caching allow applications to perform at the speed of business. Cluster members can be added or removed without an impact to data availability. NoSQL databases are built to tolerate and recover from node failures.
Automate All The Things Advanced management features such as scheduled tasks and monitoring and alerting, are available for Hyperscale servers as well. These powerful cloud management capabilities give administrators the ability to streamline multiple aspects of a server.
Business Applications
Now that we've covered the best practices, let's take a look at the type of apps that are best suited for the Cloud. CenturyLink's cloud services, infrastructure, Platform-as-a-Service (called AppFog), and cloud management capabilities are designed to support a variety of business apps.
AppFog, based on Cloud Foundry, enables developers to focus on writing great cloud-based applications without having to worry about managing the underlying infrastructure. The result is increased agility and productivity, more efficient use of resources, and low operational overhead.
Instead of spending time provisioning servers, setting up databases, configuring web servers or updating firewalls, AppFog users simply deploy their cloud-native applications to a blazingly fast, resilient, multi-region PaaS. AppFog supports the most popular runtimes and frameworks, automatic load balancing, easy-to-use application scaling, and more. Platform-as-a-Service promises huge benefits to developers who require accelerated time-to-market to meet today's market demands. And AppFog delivers!
Web Apps
Virtual servers offer native load balancing and other features to ensure maximum uptime for your online properties. Our products offer stringent security and compliance for online payments and user data. AppFog can help accelerate the software development lifecycle and increase efficiency for developers as well.
New, Cloud-Native Enterprise App
Creating new apps without violating IT policies can be harder than it looks. This is the ideal scenario for CenturyLink Cloud, since our platform natively includes many features that other cloud providers require you to piece together from different vendors. With our suite of cloud products, you're able to achieve cloud scale, elasticity, and self-service without compromise.
Database Apps
CenturyLink's high-performance, secure infrastructure – backed by a 99.99% SLA – supports the most demanding database applications. Storage options include support for up to 20,000 IOPS. The result is superior performance.
Orchestrate delivers a high-performance, high-availability, fault-tolerant database portfolio that allows developers to store and query JSON data easily without the operational burden of managing databases themselves. Whether you need the functionality of a single database or several, we deliver powerful infrastructure so you can focus on your code.
Relational DB Service supports the developer's rapid software development needs by offering instant access to a MySQL-compatible Relational DB Service. Developers can be up and running in seconds with a high performance MySQL database without worrying about maintaining and monitoring the database or underlying compute infrastructure. As your environment needs grow, easily scale your CPU, memory, and storage with a click of a button.
Legacy Apps
Move applications from an internal data center to the CenturyLink Cloud. Our product catalog features numerous offerings to ensure compliance with existing IT policies, as well as support for secure networking via VPN and Direct Connect.
Messaging & Collaboration
Host SharePoint, Exchange, Lync, and more with CenturyLink Cloud. Highly elastic and scalable infrastructure supports large enterprise deployments.
Want More Tutorials on Application Hosting?
Check out the wide range of tutorials available in our Developer Center. Read about converting an application from Twitter Bootstrap 3 to 4, building enterprise mobile applications, or how to add simple version control to your hosted applications.