The CenturyLink Cloud team is made up of more than just developers and engineers. Granted, we do have a lot of developers. And engineers. And all of those other super-smart people who have a tendency to send my mind reeling while I'm trying to keep up with their conversation. My inferior logic capabilities aside, we've decided to showcase another aspect of our work here at CenturyLink; our "Day in the Life" series will give you a glimpse into our everyday lives as Cloud team members. This series will focus on all different avenues and roles within our company, from developers, to technical writers, to the awesome administrative staff that, in reality, saves us from ourselves.
First up is Rebecca Skinner, an engineer on our Advanced Storage team. Rebecca came to CenturyLink a short time ago, but has already made a big impact on not only her team, but on our Cloud team as a whole. During her second week here she started a weekly workshop she calls "Functional Fridays" that focuses on helping devs get up-to-speed on functional programming. What makes this even more impressive is the fact that she came to the Advanced Storage team not knowing the language or the tech stack they were using, nor did she know the product they were developing. She credits her ability to learn so much, so fast to her team's willingness to share knowledge -- something she values highly and appreciates about the Cloud team.
Although she didn't know the specifics of the Storage team's project at first, Rebecca has a strong background in functional programming, systems development, and computer science fundamentals, all of which helped her quickly adapt to her team's approach. In a former position she put these same skills to good use developing a 3D video capture and compression system that ran on a GPU connected to an unmanned ground drone. Basically, she turned a drone into a 3D video feed that would zip around her office and transmit 3D video back over a low-frequency radio signal (for a more in-depth technical explanation, see Rebecca). She also does a noteworthy Gollum impression ("it's scary good"), which only adds to her impressive list of skills.
Rebecca shines in the communication, collaboration, and knowledge-sharing aspect of the Cloud team, and she's already been a valuable resource in promoting language learning and infecting others with her passion for identifying underlying commonalities of problem sets. Looking at something in a different light and discovering new connections between problems is something she has a particular strength in; she really enjoys getting people excited about the problems that our teams face and their potential solutions -- "What's really valuable is being able to get people excited about the problem -- to want to know more about why a solution has value."
To get a feel for a typical day in Rebecca's world, she provided the timeline below.
5:15 am: I wake up in the morning and start getting ready; thanks to our casual office environment, the weather and my mood are the main considerations for what I decide to wear. I usually check Slack on my phone as I'm getting ready in case I missed any interesting conversations from the night before in some of the social channels.

6:00 am: Two eggs and coffee for my breakfast, some chopped veggies for our bird, and then out the door to drop my spouse off at the train station on my way into the office.

7:00 am: My third cup of coffee for the day is enjoyed with the other "morning people" in our office, usually in the lunch room where we hang out and talk about important things, like coffee...and sometimes Fallout [4].

7:15 am: I may check our Trello board for stories that need testing or are 'ready-for-work'. Since there is another early bird on my team we can pair first thing, but today I'm busy preparing some workshop exercises for the 'Functional Friday' session I'll be leading after our stand-up.

8:30 am: After finishing up some exercises for the 'Functional Friday' session and reading a new paper on type systems, I grab my fifth cup of coffee of the day and find someone to pair with on a story.

9:00 am: A few more people from our team have wandered into the office by now, and we catch up on whatever was at the top of the Reddit front page that morning, and then maybe pair switch once before stand-up.

9:30 am: I sit down through our stand-up. First world anarchy.

9:35 am: After stand-up I announce that the topic of today's 'Functional Friday' will be an introduction to Haskell with a Randori Mob programming exercise.

10:00 am: I facilitate a group workshop and mob programming exercise to help the other team members start to learn Haskell.

11:00 am: After 'Functional Friday,' I see who wants to pair on a card. We move the card from 'ready-for-work' to 'working', pull the code down from Github, and start writing tests.

11:30 am: Lunch Time! I usually eat some soup and salad that I brought, but I'll always check out the catered option we get a few days a week to see if it's tempting enough to break my willpower for the day.

12:45 pm: I see what stories everyone else is working on and decide what I want to pair on, or pick someone and we grab a new story. We write tests and then make them pass in a ping-pong method until we've met the acceptance criteria for the story.

3:45 pm: After meeting all of the criteria on the card we mark it as 'ready for test'. I pair switch onto a card with someone else whose story is ready for test. We review the code for refactoring opportunities and validate that it's working in our QA environment. If all works well, we let Jenkins deploy it into production.

4:00 pm: I leave for the day to pick my spouse up from work and enjoy an evening at home.

5:00 pm: I get home, put on PJs, and spend some quality time with my spouse and our bird. I'm in awe of his ability to say so many things that aren't what I'm trying to get him to say right then.

5:30 pm: I start cooking dinner and post photos on the food blog that doubles as our team Slack channel.

7:00 pm: I post in Slack about side projects I'm working on or any interesting articles I find while hanging out at home watching Netflix.

8:00 pm: Start getting ready for bed. Surf Reddit on my phone from bed.

9:00 pm: Finally put my phone down and get to sleep.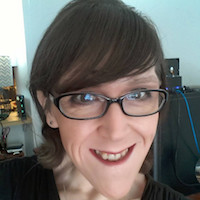 Rebecca lives in St. Louis with her spouse and their Pinous parrot, George, a rather curious and sometimes stubborn bird who uses phrases like "Whatcha doin' mommy?", "You wanna come out", and "nummy nummy" to make his desires for habenero peppers and blackberries known.
Be sure to stay tuned for future installments of our "Day in the Life Series," and let us know if there's someone in particular you'd like to hear from!