Our "Day in the Life" series gives you a glimpse into our everyday lives as Cloud team members and our culture here in the St. Louis Development Center. The series focuses on all different avenues and roles in our company, from developers, to technical writers, to the administrative staff.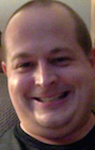 Brian is an accomplished member of the CenturyLink Cloud Object Storage team. He has a strong engineering background with lots of experience in distributed systems written in Erlang and C#. He's also skilled as an agile team lead and retrospective facilitator, and participates in TDD and pair programming. A team functions best when everyone gets along and morale is high and Brian is a peacemaker at heart who is also quick with a joke, which is a great combination for increasing team morale. He's a sharp guy who is able to learn his way around complex systems very quickly. He loves software and difficult challenges, but succeeding as a team is what really drives him.
Here's an example of his love of difficult challenges: one of his favorite projects was building the Erlang front-end to the Object Storage product. This type of project was right up his alley. Most of the coding was brand new, which meant he got to spend nearly an entire month in "heads-down" coding. The challenge leveraged his strengths and proved to be "just a lot of fun". But more than that, the project was an integral step in making Object Storage part of the CenturyLink Platform.
To get a feel for a typical day in Brian's world, he provided the timeline below.
7:40 am - Hit the snooze button on my alarm.
8:00 am - Hop in the shower and remember what I was working on yesterday and wait for any epiphanies about the upcoming cards on our Trello board.
8:12 am - Did I use shampoo?
8:13 am - Shower part 2, this time with more focus on actual hygiene.
8:30 am - Check my phone for texts from my buddy Josh to see if we are riding into work together and if so, who is driving?
8:50 am - Arrive at the office (I love short commutes!)
9:10 am - Team standup. Get a brief overview of cards in flight and any blocking issues that anyone knows about.
9:20 am - Fill up my coffee mug, water bottle and maybe grab an energy drink. It's about time to rock out.
9:30 am - First pairing session of the day. I grab a fellow rockstar dev and the most important card on the Trello board and dive in, test first. That's the first challenge of the day. This time we're working on splitting large object backups into multi-part uploads. Sounds like a job for Erlang! I also rush to be the first person to start playing music, which also gives me control of the playlist. My oldest son just introduced me to Leo Moracchioli, so we're starting the morning with some serious metal!
11:00 am - Hit the restroom, you only rent coffee.
11:10 am - Switch pairs, I get a new rockstar dev to pair with, and perhaps a new challenge to work on. I jump on a card to deploy a new Ceph cluster. Production work requires tunes that let the whole room know a critical operation is in progress. We set the desk to standing mode and queue up Kenny Loggins' Danger Zone; game faces on.
12:40 pm - Start the lunch debate; cache invalidation has nothing on trying to get 4 amateur food critics to agree on a place to eat lunch. On the days that lunch is brought into the office the process is greatly simplified.
2:30 pm - Another pair switch, this time I stay with the current challenge and bring the new person up to speed. We continue provisioning VMs for the new Ceph cluster and make a few improvements to our Ansible playbooks along the way. A musical coup occurred after lunch. I no longer control the music. I think whatever is playing is a genre called "Space travel nap-time music." It really isn't that bad, but if you can't troll someone about their musical choices then the fun police have finally won.
4:00 pm - Pinball machine in the game room is open, time to set a new high score.
4:07 pm - So, technically, I set a new high score....albeit by restarting the machine and racking up the only score. This pinball wizard needs a better spellbook.
4:10 pm - The early risers on our team are out, so I find a fellow night owl and see if we can knock out one of the in-flight cards. Gathering metrics on various caching strategies for virtual block storage sounds like a good end-of-the-day card.
5:40 pm - Time to head for home. A lot of our attempts at caching didn't come up with the IOPS we were looking for, but tomorrow is another day.
6:00 pm - Arrive home, where I expect to assist with homework or dinner prep but find I am on handy-man duty because even though no one knows how it happened, Thomas the train is half-flushed down the toilet, again. Sir Topham Hatt is very cross. I tell my son he's been a very disobedient engine, to which he replies, Yes sir, I know sir. But I will try harder!
6:30 pm - Dinner around the table with the family. I try to explain to them the various programs we tried for caching, but am met with blank stares. I switch to letting them know I played Leo Moracchioli's Metal cover of Adele's Hello for the team today; lively discussion of how all music is better as a Heavy Metal cover ensues.
7:30 pm - Drop into my recliner with the laptop. I must delegate the tasks of dish duty and floor vacuuming fairly, pick out a movie to stream, and referee the karate match between the little boys. It is a multi-tasking challenge, but I am up to the test. Besides, someone has to do it.
7:40 pm - Open up Slack to see how Batman (the on-call person for our team) is doing, or if anyone is working a side project or posting pictures of their latest cooking project. The team has a lot of amateur chefs in addition to food critics. I use the word "amateur" because they don't get paid to cook professionally.
7:50 pm - Log my cleric into Project 1999 because killing specters only requires minimal attention every 6.5 minutes and is solid XP.
7:58 pm - Log into the admin page of the router and shut off internet access to the kindles because the dishes still aren't done.
8:03 pm - Restore internet access to the kingdom.
8:20 pm - Movie time!
8:25 pm - Popcorn break.
8:32 pm - Bathroom break.
8:33 pm - OK, really, we aren't stopping the movie anymore guys.
11:30 pm - Finally finish that "2 hour" movie.
1:00 am - One last kill with the cleric...
2:12 am - Actually go to bed.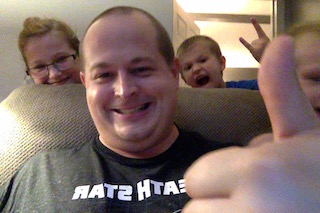 Brian married his high school sweetheart, Casey. The story is told that his wife was taller than him when they met, but he hit a couple growth spurts. Now he's half a foot taller than her. They have 8 children and homeschool all of them a few miles from the St. Louis CenturyLink Development Center. Some people might think that he and his wife are little crazy, but he can't imagine life any other way.