If you've been reading cloud-related news lately or you follow any developers or system admins on Twitter, then you've undoubtedly seen the words "container", "Docker", and "CoreOS" written a few thousand times over the past year or so. Chatter has particularly picked up in the last few months with Docker 1.0 being released in June and CoreOS announcing their first stable release within the past few weeks. CoreOS also received an 8 million dollar investment just a couple of months ago, and Docker just got another $40 million in funding a few days ago. And just yesterday, CenturyLink joined the container party and announced the release of the open-source Docker management platform, Panamax. Panamax was described by RedMonk principal analyst James Governor as "Docker management for humans. It dramatically simplifies multi-container app deployment."
This is bleeding edge technology we're talking about here, so if you haven't heard about any of it yet, there's no time like the present. Docker is one of the fastest-growing open-source projects ever, with more than 550 contributors and 7 million downloads in just over a year since its release. The power of Docker lies in its ability to build and deploy applications in containers, which are extremely efficient and more portable than traditional virtual machines. This is because they abstract only the operating system kernel rather than an entire device. But if you're like me, you'll never be satisfied just reading about anything – you want to try it already! If so, I've got good news for you. Whether you're looking to just get your feet wet and experiment with containers or you're feeling ready to jump right into the deep-end and start deploying applications with them, CenturyLink Cloud has got you covered. There are at least three ways you can get Docker up and running on CenturyLink Cloud right now: install Docker on a CentOS server, provision a CoreOS server running Docker, or take advantage of Panamax and make it even easier to use Docker. Whichever route you choose, just activate a CenturyLink Cloud account.
Option #1 – Installing Docker on CentOS
You might not be too familiar with CoreOS, so if you want to get started using Docker on a more familiar Linux distribution, you can easily use our Docker blueprint to install it on any CentOS server running on CenturyLink Cloud. You'll even get the option to deploy a Hello World container so you can see a simple example of how Docker containers work and get started building your own.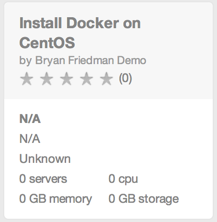 Option #2 – Installing CoreOS
Interested in CoreOS? This lightweight Linux distribution is optimized for massive server deployments and it comes with Docker preinstalled because it's designed specifically to run applications as containers. You can follow our step-by-step instructions for using blueprints to build a CoreOS server cluster on CenturyLink Cloud and start deploying your applications on Docker in minutes.
Option #3 – Installing Panamax on CoreOS
Maybe you like the idea of Docker and CoreOS, but you're not a Linux expert and you're a little afraid of getting too into the weeds on the command line. If so, CenturyLink Labs has developed just the answer for you: Panamax. Panamax is a single management platform for creating, sharing, and deploying Docker-containerized applications. By following similar steps to our CoreOS deployment above and selecting the "with Panamax" version of the blueprint, you can have a CoreOS server up and running with Panamax installed in no time, and there's no easier way to get started with Docker.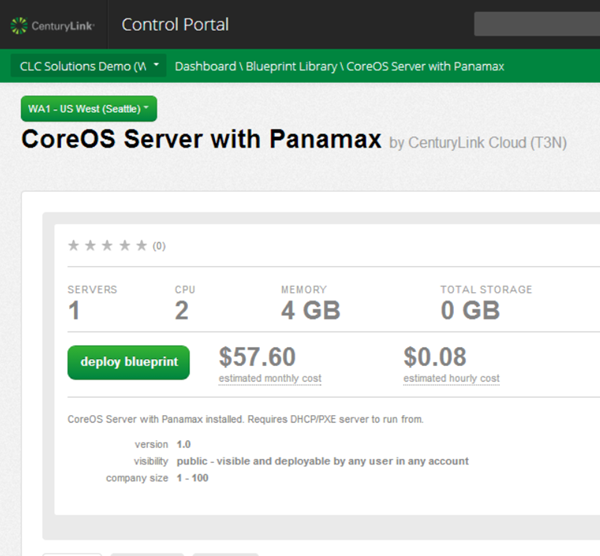 Not only can you use Panamax to deploy images from Docker's repository, you can also deploy complex multi-container Dockerized apps from Panamax's Open-Source Application Template Library. Think of these templates as collections of Docker images that work together to form the complete architecture of an application, with separate containers for the database vs. web tiers, for example.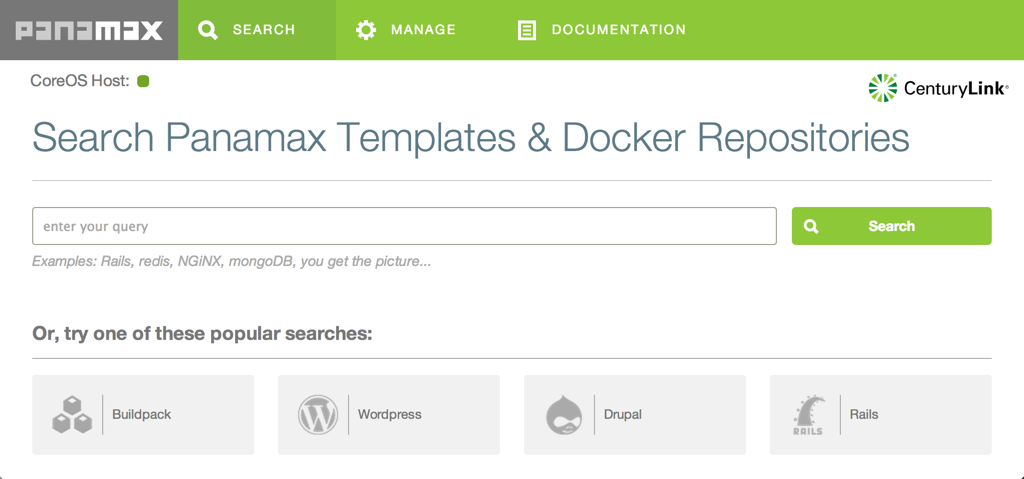 If you're looking to deploy one of the available template options like WordPress or Drupal, you'll have it working with a single click in seconds flat. However, you can also choose to define your own custom templates to use and even add custom repositories to search as the Panamax community grows. There's no easier or faster way to start using Docker containers than with Panamax, and it's built to leverage the power and scale of CoreOS.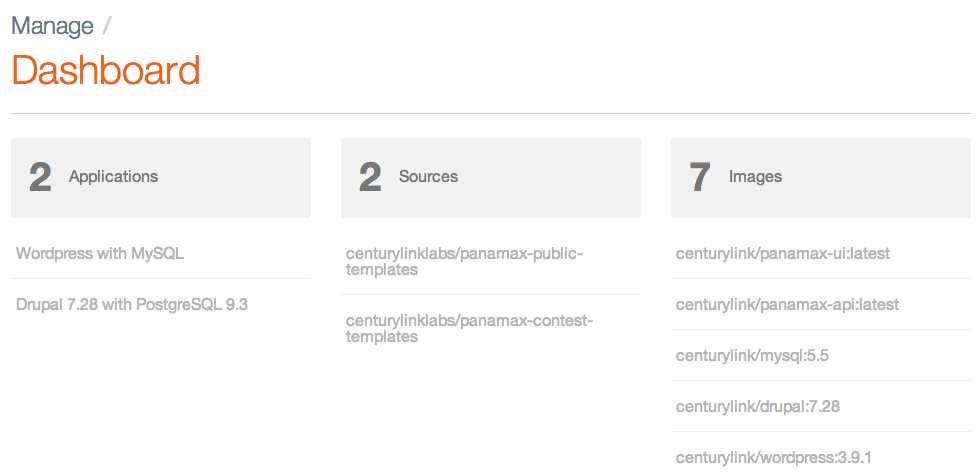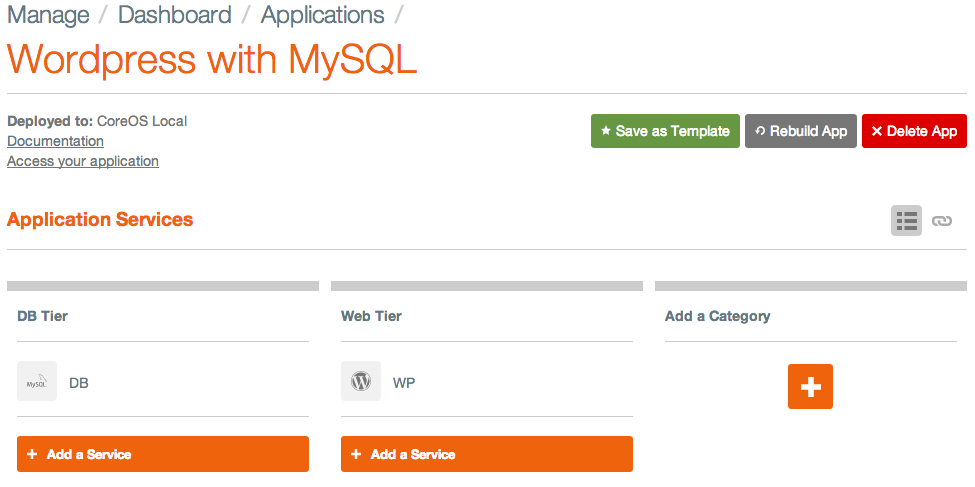 Have a server already? Install Docker! Curious about CoreOS? Provision it! Feeling overwhelmed? Try Panamax. With CenturyLink Cloud, you've got lots of ways to get started using Docker right now, so no more excuses! If you don't have a CenturyLink Cloud account yet, head over to our website and activate an account and add containers to your repertoire of application deployment options today and start enjoying their power, performance, and portability.