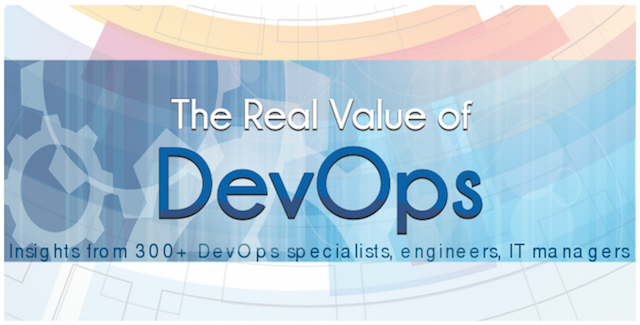 Here's a question for you: Does DevOps measure up to your expectations? Sure, several surveys in the last year or two have established DevOps as a hot trend. Even as DevOps adoption is on the rise, a look at the tools that software development and release teams use and their perceived value, reveals deeper DevOps trends. That's why together with Devops.com, we recently conducted a survey to explore how real the DevOps promise is for enterprises.
We polled DevOps specialists, engineers, and IT managers about their level of DevOps adoption and how they measure real value versus hype. Over 300 DevOps practitioners in the US mostly in B2B or consumer-facing businesses, answered our survey. Going in, we expected that high-performing IT organizations today adopt DevOps or something akin to it. And our study confirmed it. But how much do companies invest in DevOps tools and what is their ROI? We uncovered these and other insights in the Real Value of DevOps study. You can download the full report for details. Here, we summarize the main highlights of the industry trends:
DevOps Has Evolved Beyond Hype
Our study reveals that DevOps is a recognized and dedicated function, though adoption in itself is relatively slow going. Many have a DevOps title or are in such a function, and more than half said they use or dabble in DevOps practices. IT services and software verticals form the biggest group practicing DevOps whether or not they call it that. Another set belong to financial and banking services. If anything, this data indicates that DevOps adoption has crossed over from cloud-native organizations to the historically brick-and-mortar giants in the financial sector.
Cross-functional Collaboration Is Fundamental to DevOps
More than half the respondents cited DevOps as their primary job function. Aside from their main job, many also perform operations, development, and security work. More than half also interact with 10 or more people. As the study shows, both large and small enterprises have a need to collaborate and work across functions. People in development, operations, and DevOps teams increasingly communicate with larger teams. Clearly collaboration is a major driver for DevOps practitioners.
Top Three DevOps Initiatives: Automated Build Tests, CI/CD, and Configuration Management
To learn where high-performance IT organizations invest in DevOps, we asked what initiatives drive their DevOps adoption. A majority identified automated build testing as their leading DevOps focus. Configuration management followed closely. Another sizable group said they focused on continuous integration and continuous delivery (CI/CD), which usually also include automated build tests. What's interesting is that collaboration, infrastructure as code, and cloud application management also emerge as key initiatives. One way to understand this data is that companies when they reach a certain level of DevOps maturity recognize that cloud application management helps them tie all of these initiatives together.
Expectations on DevOps Investments and Returns
We explored budgeting across DevOps initiatives to get a sense of where enterprises spend top dollars. Expectations on returns from these DevOps investments showed interesting results. We asked what estimated ROI they had realized over the past 12 months. Our takeaway is that price value on DevOps tools is not grounded in reality. As the survey data suggests, the propensity to use free, open-source software drives a low spend. Still, it's not clear how the total cost of ownership from using free, open-source tools affects the overall business bottom-line. When calculating the cost of DevOps initiatives, we believe companies often overlook hidden costs such as setup, support, and training.
Cloud Application Management, a Growing Trend
We wanted to understand how the IT community looks at cloud application management and solutions in that category. Two key points came up. DevOps practitioners are yet to see cloud application management as a category separate from configuration management and cloud provider services. One reason for that is because cloud providers offer in-house management tools. And many practitioners either don't use such tools or rely on homegrown solutions. Some reported using Cloud Application Manager and others mentioned Scalr, Juju, RightScale, and CliQr.
If you apply Maslow's hierarchy to DevOps maturity levels in enterprises, we find that automated test builds are the minimum must-have. Once enterprises achieve the least amount of automation, they move up to continuous integration. And once there, they embrace configuration management. The more mature the company in automating and integrating their processes, the higher they rank. At the highest level, they achieve continuous delivery that provides end-to-end application automation all the way from code commit to deployment.
More detail and insights are in the Real Value of DevOps Survey report. Download it here.
Want to Learn More About Cloud Application Manager and ElasticKube?
Cloud Application Manager is a powerful, scalable platform for deploying applications into production across any cloud infrastructure – private, public or hosted. It provides interactive visualization to automate application provisioning, including configuration, deployment, scaling, updating and migration of applications in real-time. Offering two approaches to cloud orchestration — Cloud Application Manager and ElasticKube — enterprise IT and developers alike can benefit from multi-cloud flexibility.
Explore ElasticKube by visiting GitHub (curl -s https://elastickube.com | bash).
Visit the Cloud Application Manager product page to learn more.