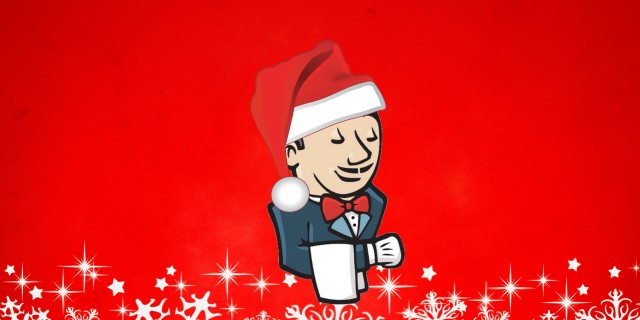 It's the holiday season. Time to celebrate and reflect on the year ending.
If you've spent the year wrangling with Jenkins build jobs, then slaves are probably a tedious reminder. Especially if you think of the work required to set up build environments in different clouds. Then compound that with environments to match different stages of product readiness such as dev, test, production. See the drudgery involved?
Have a look at this video to see how build environments are no longer cumbersome thanks to Cloud Application Manager. In the video, we define a test slave environment in Cloud Application Manager once and then use it as a slave to run Jenkins jobs to test a JBoss ticketing app in any cloud.
After this demo, you may want to check out other Cloud Application Manager videos we have on our Getting Started page.
Jenkins, a Popular Build Tool
Done watching the video? If you're still here pondering Jenkins and wondering how Cloud Application Manager can help then read on.
You know well that Jenkins is a popular tool that lets you trigger jobs based on certain events. The cool thing about Jenkins is that it can integrate with a number of systems like your source control repository and your business workflow systems. Therefore, it's no surprise that you often integrate Jenkins to merge code check-ins to production round the clock.
Typical Jenkins Build Setup
Some of the things you do with Jenkins include running builds on different environments such as dev, test, staging, and production. To do this, you have to set up each environment on which the workloads run. Let's consider the setup, which can be time consuming.
Firstly, you have to configure jobs with all the commands and scripts required to run workloads on each environment.
Secondly, you have to configure slaves to run the jobs in each environment.
Thirdly, if there are changes to the build environment like a new library or runtime version, you have to update slaves or rebuild machine images for the slave.
Lastly, you have to configure a slave each to run anywhere: your local infrastructure like a laptop, your private cloud like vSphere, OpenStack, or the public cloud like AWS, Google Cloud, Azure.
Jenkins and Cloud Application Manager
A big plus in using Jenkins with Cloud Application Manager is to automate configurations in a more efficient and repeatable fashion. When you use Cloud Application Manager, you do away with repeated setup. No longer do you set up dev, test, staging, or production build environments for each cloud. No longer do you define slaves for each environment either.
Want to find out how Cloud Application Manager can automate your slave drudgery? Contact us for a demo and try out the Jenkins tutorial to experience a happier life in the coming year with Cloud Application Manager providing Jenkins build slaves.
Want to Learn More About Cloud Application Manager and ElasticKube?
Cloud Application Manager is a powerful, scalable platform for deploying applications into production across any cloud infrastructure – private, public or hosted. It provides interactive visualization to automate application provisioning, including configuration, deployment, scaling, updating and migration of applications in real-time. Offering two approaches to cloud orchestration — Cloud Application Manager and ElasticKube — enterprise IT and developers alike can benefit from multi-cloud flexibility.
Explore ElasticKube by visiting GitHub (curl -s https://elastickube.com | bash).
Visit the Cloud Application Manager product page to learn more.