Yesterday, the folks at MyNoSQL speculated on reasons so few database administrators (DBAs) actually use NoSQL.
Written in response to Gartner NoSQL analyst Nick Heudecker's blog post stating DBAs made up only 5.5% of respondents in an informal survey of NoSQL, the MyNoSQL team suggest some reasons:
DBAs see no value in NoSQL
DBAs see no job security
DBAs see a drop in their revenue with NoSQL
DBAs are misinformed
DBAs are change resistant (putting them in the later phases of adoption)
I'd go with a combination of 5 (explained mostly by 3) and 4.
We have a different perspective, based on our own first-hand experiences in the NoSQL industry with Basho, makers of Riak.
DBAs don't use NoSQL databases because DBAs either resisted or ignored emerging NoSQL technologies, while simultaneously developers became far more central in dictating the software and services upon which companies built new applications. Today, as Stephen O'Grady first observed in "The New Kingmakers," the developer acts as architect, DBA, sys admin, and even security lead, and is increasingly dictating which tools to use for new projects.
In practical terms, we didn't encounter very many DBAs at Basho. Developers, usually fed up with the difficulty building with or using relational databases, and newly empowered by increasingly liberal views toward open source software, reached out to us through our community, built prototypes, and cheerfully flanked the "DBA priesthood" altogether.
As the technology matured, we encountered an increasing number of high profile workloads where relational databases were costing astronomical sums…. and performed rather poorly.
I wish I could say such setbacks shook DBAs of their collective complacency, but our recent experience at Orchestrate suggests otherwise. In fact, precisely when Heudecker and Gartner were running their informal poll to understand our users, we were doing the same, with largely the same results.
Among other things, we asked 141 people to identify their role within an organization. Based on our experience, we did not make DBA an option but made available a free text box for people to self-identify.
The results, based on 139 responses (122 polled, 17 who answered Other):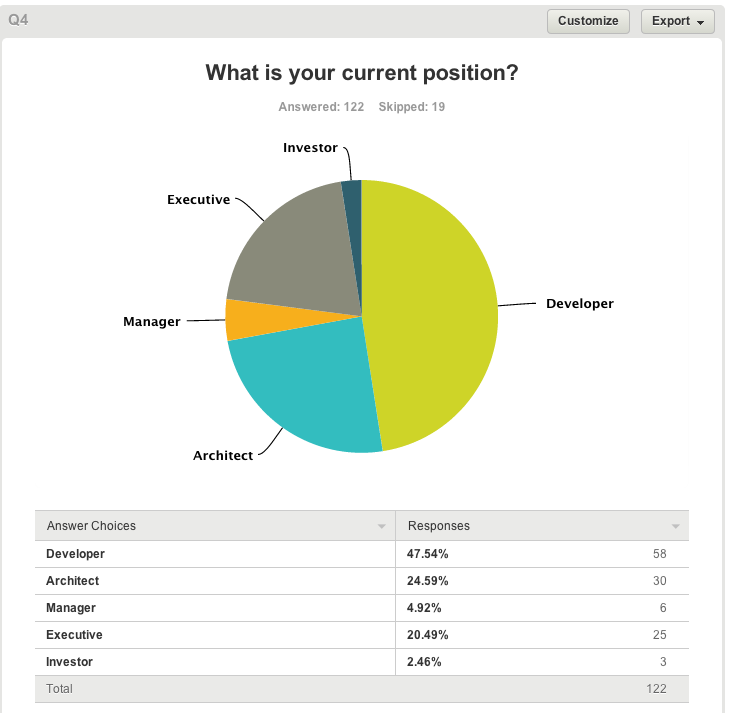 Of the 17 respondents that answered only "Other," none answered a variant of DBA. One might reasonably argue our question put off DBAs, or that they simply chose among the remaining categories. However, our responses and Heudecker's seem to align: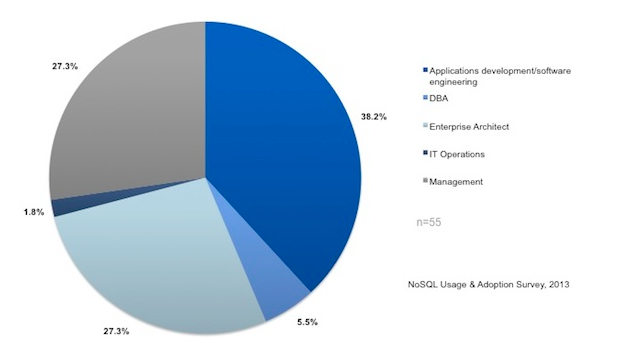 In our survey, including responses to "Other", 68% responded either developer or architect or some variation thereof. In Heudecker's survey, excluding DBAs, the results for technical users totaled 67%.
I don't want to make too much of such informal surveys. If it weren't for six years of experience working with enterprises interested in NoSQL, I would suggest all we can really say is DBAs don't respond to informal surveys about NoSQL and NoSQL database-as-a-service usage. However, I don't think this is the case either.
So, if the DBA role is becoming increasingly irrelevant, at least as regards NoSQL, what does that mean? For Heudecker, it means:
"Application developers may be getting what they want from NoSQL now, but cutting out the primary data stewards will result in long-term data quality and information governance challenges for the larger enterprise."
I am not so sure the situation is as bad as all that. Certainly NoSQL databases have room to grow. Just consider the challenges current DBA mainstay MySQL faced just ten years ago.
Databases, and best practices, mature based on user demand.
More importantly, one shouldn't assume that because the DBA currently provides data governance functions in the enterprise, they will in the future. Poor data governance threatens potentially enormous downsides. There is every reason to believe enterprises will still want to know who has access to their data, that their data is backed up properly, that the correct high availability architecture is in place, that access controls, audits, and compliance with statutory and certification standards (all the not very sexy stuff that one needs for critical data) all meet their governance goals.
As databases move rapidly and successfully to the cloud, and as many of the resulting services consolidate, enterprises will find it easier to control all their data from one place. Instead of running four or five different NoSQL databases, all with varying levels of security and operational properties, our users can control all their NoSQL workloads from a single administrative interface. One security regime, one replication regime, one vendor to certify: governance made easier.
Ten years from now, making sure your data is safe, well-managed, and accessible will be just as important as it is today. As developers continue to exert more control over an application's lifecycle, and as DBaaS takes off, database administration will give way to data service administration. Whether the DBA role transforms into the DSA role or goes away altogether is beyond my guess. One thing is for sure: the need the DBA serves today is here to stay.