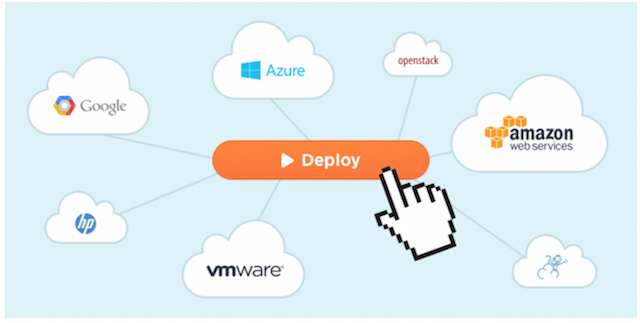 Faster time-to-market is a sure strategy to grow a business. App deployment automation gets you there. Which is why we're in the business to automate deployments. Whatever applications power your business — on premises, in public, or hybrid clouds — we help lower virtual infrastructure costs, operational overhead, and create more time for engineers to innovate freely.
To fulfill this mission, over the course of the year, we launched several features that provide self-service environments on demand, efficient scaling in any cloud, orchestration across DevOps tools, and more.
Now with AWS re:Invent just around the corner, we're super excited to share a sneak peek of what's coming soon: One-click deployments and container orchestration.
One-Click Deployments
For many months, we obsessed over a single question. How to make the lives of engineers and operations easy? And the resounding answer always was remove as many barriers to deploying applications. And one-click deployments make that possible. With this release, developers, QA, operations engineers can click once to launch environments with all the application components and microservices from a single vantage point.
You could do the same before using Jenkins and the Cloud Application Manager Jenkins Plugin. But now, you can do so conveniently from the Cloud Application Manager API, command line, or from the UI using the new Application box type. The application box is a logical layer that combines all the components or microservices such as a frontend, database, application service, load balancer, and so on. You deploy the application box like any other box. Here's a look at all the components of a WordPress application box.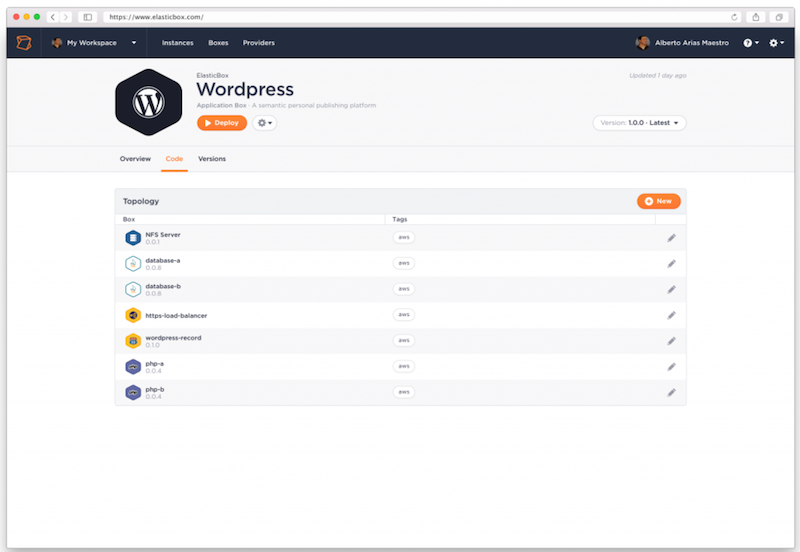 Container Orchestration
Developers love containers because of the inherent freedom. They can develop and test a service locally, convert it to an image and trust it to run exactly the same elsewhere. For that same reason, we worked on container deployments enhancing them in more ways than one. Here are some advantages to deploying containers through Cloud Application Manager:
Flexibility: Deploy to AWS ECS or EC2 from a Dockerfile or a box. And run applications in either VMs or containers. When you configure once, a box can run anywhere.
Visibility: Containers don't have to be a black box. You can improve, update, and debug easily because interconnected container services are available in the box and instance lifecycle editor to review and correct their configuration.
Easier Communication: Bindings simplify container service connections because they automatically detect dependent services through matching tags. And not just between containers alone but also across containers and VMs.
Let's see an ECS container deployment in action using WordPress again as an example. First, we set up the ECS container cluster and optionally ELB load balancing in AWS. Next, we give the Cloud Application Manager IAM role policy the ECS permissions required to orchestrate deployments. Then we sync the AWS account in Cloud Application Manager and carve out an ECS deployment policy.
Now we're all set to deploy WordPress in ECS. Here's how:
Connect to the Cloud Application Manager command line and the Docker service.

Build a container out of the WordPress script box.

Push the container image to a Docker registry.

Post the image to the WordPress box. A metadata tag associates the container image from the registry as a box version.

Deploy the box to the AWS ECS using the ECS deployment policy.
That's a quick preview of the ECS container deployments coming your way soon.
Scaling for Business Growth
Who said you can't scale engineering efforts in a budget-friendly way? We tackled this challenge with cloud reporting and cost center budgeting solutions. Additionally, many administrative features help IT operations engineers apply enterprise policy and access control for the entire IT organization.
So the future looks bright. Working on the most challenging problems is also the most rewarding. Come see us at booth #532 at AWS reinvent Central and get an in-depth demo of these and other powerful solutions for your use cases.
Want to Learn More About Cloud Application Manager and ElasticKube?
Cloud Application Manager is a powerful, scalable platform for deploying applications into production across any cloud infrastructure – private, public or hosted. It provides interactive visualization to automate application provisioning, including configuration, deployment, scaling, updating and migration of applications in real-time. Offering two approaches to cloud orchestration — Cloud Application Manager and ElasticKube — enterprise IT and developers alike can benefit from multi-cloud flexibility.
Explore ElasticKube by visiting GitHub (curl -s https://elastickube.com | bash).
Visit the Cloud Application Manager product page to learn more.