Every enterprise needs a central calendar solution with collaboration support. However, many Software-as-a-Service (SaaS) solutions host this information in a public cloud. Many enterprises prefer to host sensitive calendar information in a private cloud. In a previous tutorial, we showed you how to how to use the ownCloud universal file access platform to deploy private cloud file sharing using CenturyLink Cloud Object Storage. In this tutorial, we will explain how to deploy an enterprise calendar system using the ownCloud Calendar application.
Tools Used
ownCloud Community Edition is the open-source version of ownCloud. It provides users with seamless access to files on many different devices and services, all from a centralized location that is under the control of your enterprise. It uses an open, modular architecture to provide extensibility and expansive, federated cloud sharing capabilities.
CenturyLink Cloud Compute servers are high-performance cloud servers. These enterprise-grade virtual machines are easy to deploy and manage from the CenturyLink Cloud Control Portal and via powerful API calls.
CenturyLink Cloud Blueprints offer deployable configurations that can bring a new environment online in a matter of minutes. Custom apps and pre-packaged software are always deployed to their ideal settings, thus eliminating problems related to misconfiguration and mismanagement.
Before We Start
If you don't have a CenturyLink Cloud account yet, head over to our website and activate an account. You'll need it to access CenturyLink Cloud Blueprints.
In this tutorial, we will deploy ownCloud using a CenturyLink Cloud Blueprint.
Locate the ownCloud Blueprint
To start the deployment process, follow these steps.
Go to the CenturyLink Cloud Control Portal and log in.

From the Navigation Menu on the left, click Orchestration > Blueprints Library.

Enter "ownCloud" into the Refine Results search box and click go.

Click Install ownCloud on Linux x64.

When the Blueprint summary and estimate are displayed, click deploy blueprint.
Customize the Blueprint
The ownCloud Blueprint customization only requires that you fill out a form and wait for provisioning to complete. Follow the steps below.
Fill out the Deploy Install ownCloud on Linux x64 Blueprint form.

The values in the Login and Password fields are used for your ownCloud administrator account. Make sure you remember them!

Pay particular attention to the Password field in the Build Server(s) section, which needs your CenturyLink Cloud account password.

Click next: step 2.

After reviewing your settings, click deploy blueprint.

You will now see the Deploy Blueprint screen with a progress indicator. Wait for the progress indicator to indicate that your deployment has finished.
Enable the ownCloud Calendar App
Once your ownCloud Blueprint is deployed, you can configure your ownCloud instance and enable the Calendar application. To configure ownCloud, follow the directions below.
Log in to the Control Panel.

From the Navigation Menu, click Infrastructure > Servers.

Locate the new ownCloud server.

In the SERVER INFO section, look for IP ADDRESS(ES). The IP address in public address space is your ownCloud server's public IP address.

In a web browser, visit the server's IP and click Access ownCloud.

Enter the Login and Password values from Customizing the Blueprint into the Username and Password fields on the ownCloud login form.

In the upper left-hand corner, click Files > Apps.

In the Apps screen, click Productivity. Scroll down the list of apps until you find Calendar.

Click Enable under the External storage support app.

In the upper left-hand corner, click Apps > Calendar.
Using the Calendar
The Calendar interface allows you to add new calendars and share them with ownCloud users and groups. Multiple calendars are supported, with common scheduling features such as inviting and tracking appointment attendees, alerts, and event categorization.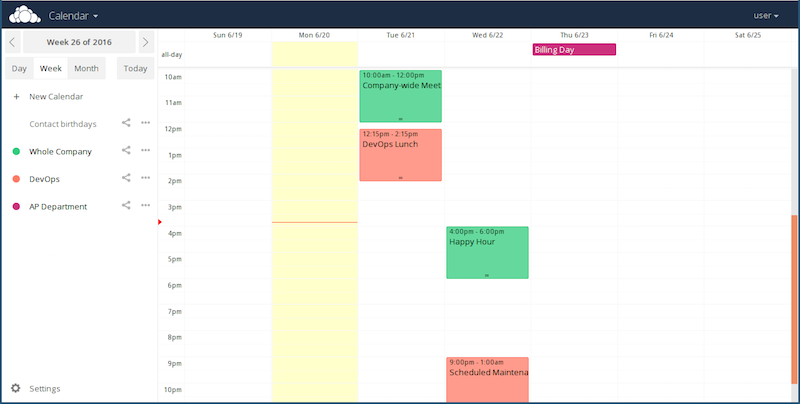 Integrate Calendars with Other Apps
The ownCloud Calendar has a powerful CalDAV interface that allows it to be integrated into other popular applications.
To access the CalDAV link for a calendar, follow the steps below.
In the Calendar app, click on the three dots next to the calendar.

Click on the chain link icon to access the CalDAV link.
Check out this list of CalDAV clients to find software for many different platforms. Integrate your calendar with iOS, Android, and popular office software such as Microsoft Outlook and Mozilla Thunderbird.
Next Steps
The ownCloud apps collection has dozens of different products that serve to transform it into a private cloud collaboration portal. These include webmail, a contacts manager, and collaborative document editing using LibreOffice.
The CenturyLink Cloud Blueprints library has many helpful self-hosted, automatically-deployed software packages. Explore them today and find a solution that meets the challenges you face.
Sign-up for our Developer-focused newsletter CODE. It's designed hands-on by developers, for developers. Keep up-to-date on topics of interest, including: tutorials, tips and tricks, and community building events.
We're a different kind of cloud provider – let us show you why.