Updated by Shi Jin on Dec 27, 2017
Article Code: kb/119
Requirements
Access to an AWS account.
How to Use SetupSafeHavenIAM.json to Setup AWS IAM
Download SetupSafeHavenIAM.json to be used later. Feel free to open this file with a text editor to review its content.
Login to AWS Console with a user with permission to change IAM (such as the root account user or Administrator)
Go to the CloudFormation service
Create a new Stack by uploading this SetupSafeHavenIAM.json file

Provide a Stack name such as SetupSafeHavenIAM

Do nothing on the Options page

Check the acknowledgement checkbox and click on Create

When the CloudFormation script finish running, we should see the CREATE_COMPLETE status

Click on the Outputs tab to see the API key pair

Please note that once this key pair is securely stored locally, one can delete the CloudFormation stack and the resources created by this stack will be kept
Confirmation
We can confirm the results by going to the IAM service of the AWS Console.
Confirm User
We should find a SafeHaven user created with the following permissions: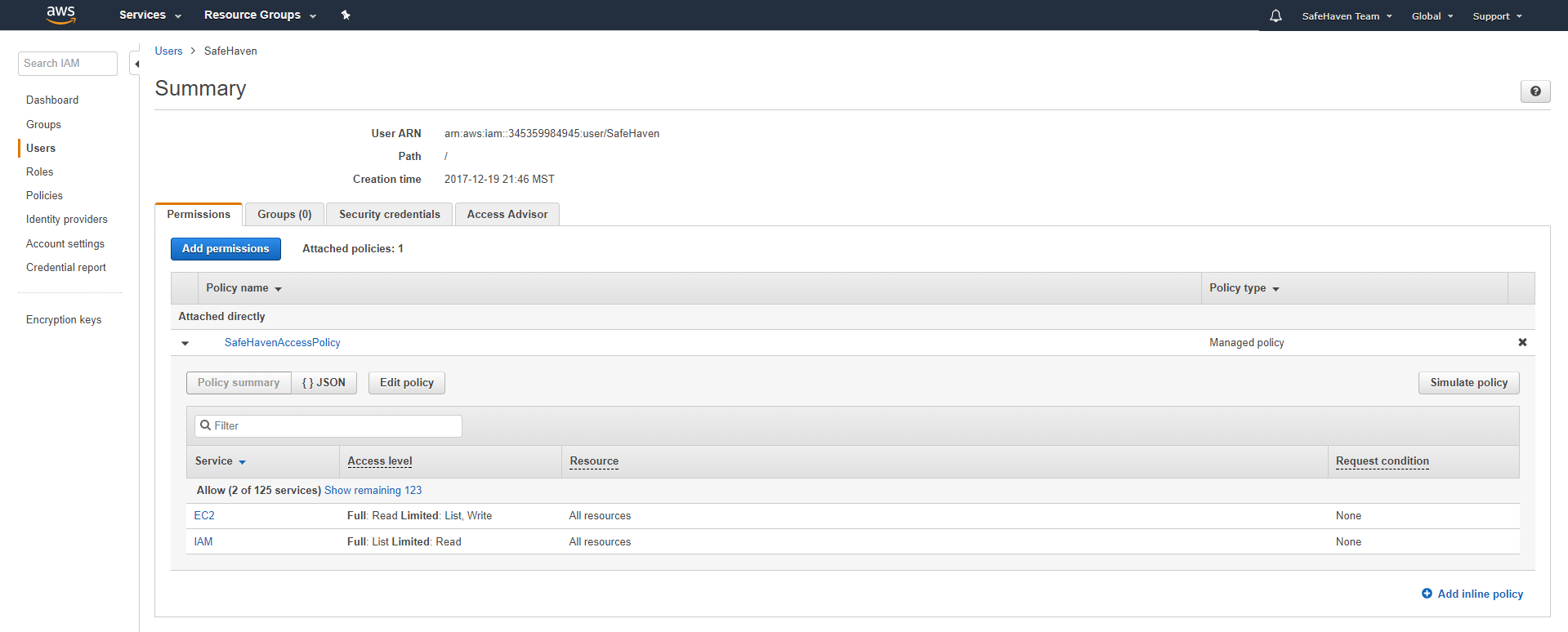 We can see that this user has
full read access to both EC2 and IAM
only limited write access to EC2 (just enough for SafeHaven to work)
The API key pair of this SafeHaven user can be found in the Outputs section of the CloudFormation stack we just created.
Confirm Role
We should also find a vmimport role created with an inline policy that allows for limited access to EC2:



By clicking on the Trust relationships tab of this role, we show trust to the VM Import/Export service (vmie.amazonaws.com)


Next Step is to Create Production SRN in Lumen Cloud