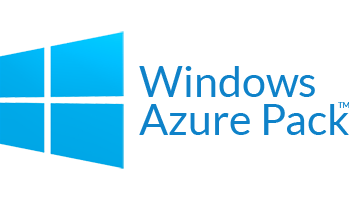 Microsoft Azure Pack: Private-Cloud-as-a-Service on CenturyLink Cloud
Managed Private-Cloud-as-a-Service: Windows Azure Pack
Overview
Your employees need on-demand access to IT resources like virtual machines, web applications and databases so that they can solve business problems at cloud speed.
If you've evaluated Private Cloud solutions or have tried deploying your own, you know that there are significant challenges to building, managing, and maintaining Private Cloud environments, especially when striving to achieve feature parity with full-featured Public Clouds.
The Self-Service Control Portal allows you to manage the IT needs and resource consumption of your company's departments and teams. In addition, development teams can leverage Microsoft's public cloud APIs to automate frequent activities.
CenturyLink Cloud enables rapid software deployment and development by offering instant access to a Windows Server-based cloud service instance. Users can be up and running in seconds with a high performance VMs without worrying about maintaining and monitoring the underlying compute infrastructure.
Focus your resources on instant provisioning of your cloud environment.
Self Service based Rapid provisioning of private-cloud as a service instance. Provision any combination of CPU, RAM and storage. Empower your users with self-service access to SQL databases, Virtual Machines and Web Sites, all provisioned with the click of a button.
Administrators can customize, manage, allocate and even add additional services to support custom business needs.
Support Options
Silver Support comes with a 4 hour SLA (9am-5pm, Mon-Fri; Pacific Time)
Gold Support comes with a 1 hour SLA and includes 24x7 coverage
---
Features
Available in CenturyLink's CenturyLink Cloud VA1 (US East) or GB3 (Great Britain) data centers:
Self-provisioning with Tenant Portal
Rapid provisioning of a Private-Cloud-as-a-Service instance
Provision IaaS VMs
Provision workloads of your choice
Flexible provisioning options based on your unique needs to customize offerings: Provision any combination of CPU, RAM and storage
Default High Availability with Storage
Quickly scale CPU, RAM and storage through automation
---
Pricing
Windows Azure Pack (WAP) is a free open source offering from Microsoft, while Windows OS licensing comes included with the Bare Metal servers. Support plan required.
Support Options
| Plan | SLA Response Time | Price |
| --- | --- | --- |
| Silver Support | 4 hours SLA (9am-5pm; Mon-Fri; Pacific Time) | $1,000/month |
| Gold Support | 1 hour SLA (24x7) | $3,000/month |
Infrastructure
| Bare Metal Servers | CPU | RAM | Storage | Price |
| --- | --- | --- | --- | --- |
| 2 SMALL | 4 | 16GB | 2TB HDD | $561/server/month |
| 2 MEDIUM | 12 | 64GB | 8TB HDD | $1,036/server/month |
| 2 LARGE | 20 | 128GB | 12TB HDD | $1,835/server/month |
---
Support
Support for your software purchased via the Marketplace is rendered by the individual Software Provider. The CenturyLink Customer Care Team is unable to provide support for your software. However, if you are experiencing issues with the infrastructure that hosts your software, please open a ticket with
help@ctl.io
. Below you can find the contact information for support of this software.
Email: support@terawe.com
Web: https://www.terawe.com/support/
Phone: +1 (425) 867 5130
---
End User License Agreement (EULA)
http://www.microsoftvolumelicensing.com/Downloader.aspx?DocumentId=6866
---
By clicking the Agree & Continue button, you agree to the Provider's End User License Agreement (EULA) and/or Terms of Service associated with this software or service.
Not a customer? Register now.