Overview
This knowledge base article will guide a customer through the process of deploying dedicated Citrix VPX load balancer(s) via Service Task on the CenturyLink Cloud.
Deploy a Load Balancing VLAN
Deploy a dedicated load balancing vlan in your account within the appropriate data center. We recommend the VPX reside in a dedicated VLAN which allows for maximum Firewall security control and scalability of VIPs.
Costs for VLANs can be found in our Pricing Catalog or your CenturyLink Cloud MSA.
Once this job completes we recommend you apply a friendly name to this VLAN.
In the sample below in CA3 we have a network created and named NLB_10.100.97.0/24.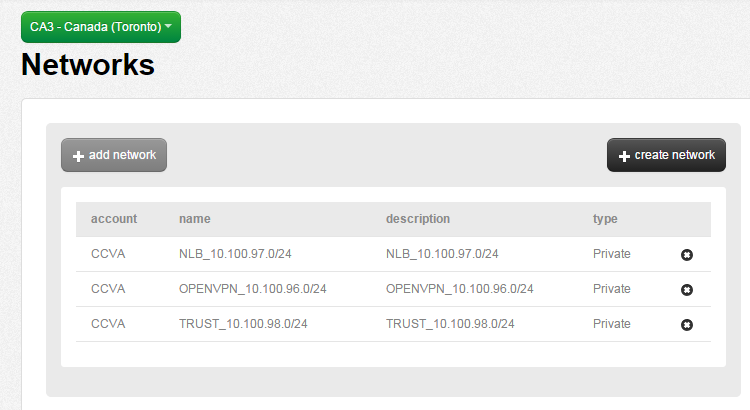 Request a Service Task
Create a formal request to the Service Task team. In order to properly process your request to deploy Citrix VPX device(s) customers will need to supply the Service Task team with the following information.
The Account alias of the Account you wish to deploy the VPX(s) into.
The Data Center in which you wish the VPX(s) to be deployed
The Network into which the VPX(s) should be deployed. In this example above NLB_10.100.97.0/24 was leveraged.
The Server Group you'd like the VPX(s) deployed into
The number of VIP's you'd like reserved in the network for load balancing. The support team can later reserve more via a ticket. Generally, our team will reserve 10 VIPs out of the box unless stated otherwise.
Indicate the Quantity of devices you wish to purchase. If you require Highly Available Load Balancers 2 units must be purchased.
Indicate the VPX build version you wish to leverage: 10.5 or 11
Accessing the VPX Appliance(s)
Once the Service Task team deploy's your VPX appliance(s) you will get a notification with details on your new devices. This list will include:
The VM name of the VPX(s)
The Management IP of the VPX(s)
The RNAT IP of the VPX
Username and Password to perform administration of your new appliances
The list of VIP's reserved for the VPX
Citrix VPX Appliances will be shown in Control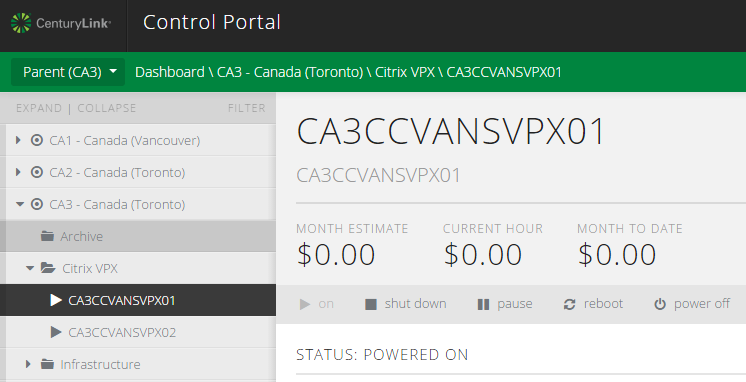 Additional Information