Updated by Chris Sterling on Apr 21, 2015
Article Code: a855
The AppFog service will be retired as of June 29, 2018. Beginning on this date, the AppFog Platform-as-a-Service will no longer be available, including all source code, env vars, and database information.
Audience
Application developers
Overview
We currently support applications using the following application runtimes in AppFog by default:
Deploy Application
Once you have an application to deploy that is based on one of the supported application runtimes, you can deploy that application using the Cloud Foundry CLI or from the Control Portal.
Here are the steps for deploying your application in the CLI:
Go to the directory where your application source code is located
Run the command cf push [name of app] to deploy it into AppFog (NOTE: [name of app] must be unique so be clever with name such as "theultimateapp-100")
After the process has finished you should see something similar to the following: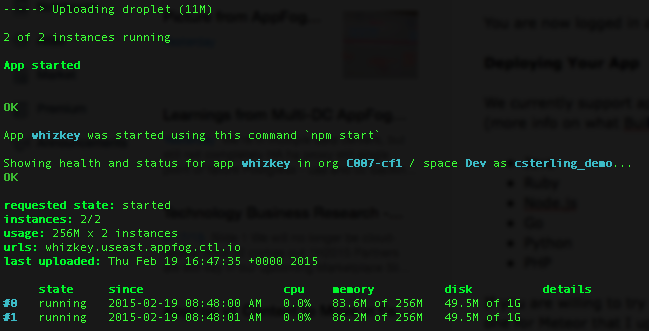 Copy the URL from "urls" line and open that URL in a browser
You should now see your application running!