Updated by Ben Swoboda on Mar 03, 2017
Article Code: kb/291
Overview
With Microsoft Azure, you may find that some products which should be immediately deployable are not. Microsoft Azure has a concept of registering for some resources, while others are registered by default. There are even times when you may need to re-register these resources.
Audience
Users of Microsoft Azure.
Prerequisites
An active, Microsoft Azure Subscription.
Important Information
For your subscription, go to Resource Providers. Look at the list of resource providers, and if necessary, select the Re-register link to re-register the resource provider of the type you are trying to deploy.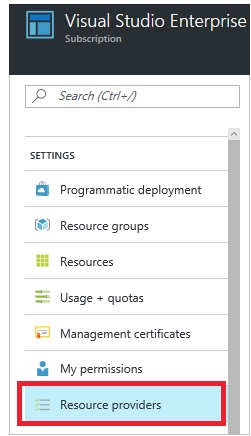 More information can be found in Microsoft's site.
Contacting Cloud Application Manager Support
We're sorry you're having an issue in Cloud Application Manager. Please review the troubleshooting tips, or contact Cloud Application Manager support with details and screenshots where possible.
 
For issues related to API calls, send the request body along with details related to the issue.
 
In the case of a box error, share the box in the workspace that your organization and Cloud Application Manager can access and attach the logs.
Linux: SSH and locate the log at /var/log/elasticbox/elasticbox-agent.log
Windows: RDP into the instance to locate the log at ProgramDataElasticBoxLogselasticbox-agent.log