New Features (1)
Shared Load Balancer APIs. The creation and management of load balancer pools is now available via self-service API. All the capabilities that are available for shared load balancing in the Control Portal - including create, configure, and delete - can now be done via API. Documentation can be found here.
Minor Enhancements (6)
Price Decreases on selected services. Prices have been lowered for both Managed SQL and Cloudera.

No charge for Managed OS services when servers are powered off. Virtual machines with a managed OS will NOT incur hourly managed OS fees when the server is powered off. Charges will re-start after the VM is powered back on.

Lumen Cloud Status. A new portal - status.ctl.io - includes real-time updates on the status of Lumen Cloud services, and upcoming maintenance notifications. Accordingly, maintenance and outage notifications will no longer come from communications@centurylinkcloud.com; instead they will come from help@ctl.io. More information about this service can be found here.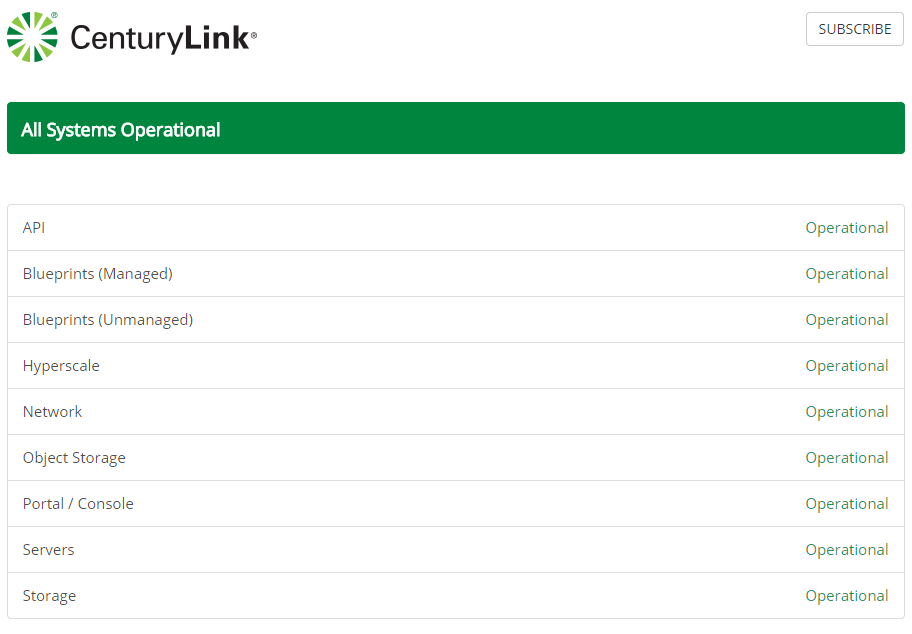 Account Service Level now retrievable by API. Account.ServiceLevel, a v1 API, can now be used to retrieve an account's support level, in addition to other billing data.

Usage History "download CSV" button returns. By popular demand, the button that allows a user to download a CSV file containing details of an account's usage history has been reenabled. Navigate to Account.Billing/Usage History, then select the month for which detail is desired. The "download CSV" button is back at the top of the screen!

Service Level Defaults to "Developer." For all accounts created via the Activate site, the service level will be automatically set to Developer.
Notifications (1)
OS Retirement. The following operating systems have been removed from the "Create Server" experience in the Control Portal and via API: Windows Server 2003, CentOS 5 & 6 32 bit, Ubuntu 10, FreeBSD, and Windows Server 2008 32-bit. The next phase of retirement for these operating systems will be completed in 60 days. For more information about this, please, see this Knowledge Base article. What does "retirement" mean? You can get more details here.
Online Tools (2)
Account Activation. The "activate" experience on activate.lumencloud.com has been enhanced with two-factor authentication and a simplified user flow.

Data center-specific Pricing Catalog and Online Price Estimator. Region-specific pricing is now reflected in these tools. Simply select a data center using the drop-down, and prices will update automatically.

Data Center can be selected when using the online price estimator:

Or it can be selected when viewing the Pricing Catalog:
Open Source Contributions (4)
Selected highlights include: