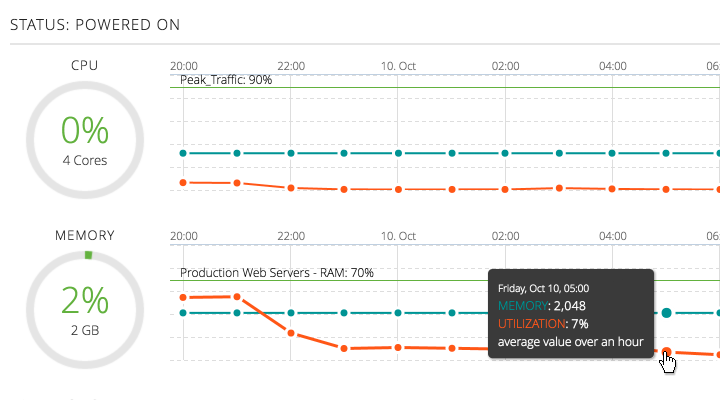 Get Notified of Usage Spikes
Create CPU, memory or storage alert policies, apply them to individual cloud servers or logical Groups. You can consume alerts in three ways — email, webhook, or through visual indicators in the Control Portal web interface.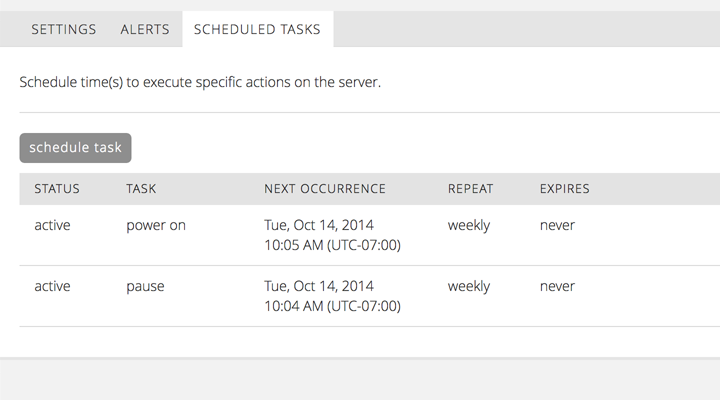 Set And Forget It With Scheduled Tasks
With Scheduled Tasks, you can automate and coordinate maintenance activities, turn off developer machines over the weekend, or automatically delete or archive servers at the end of a project.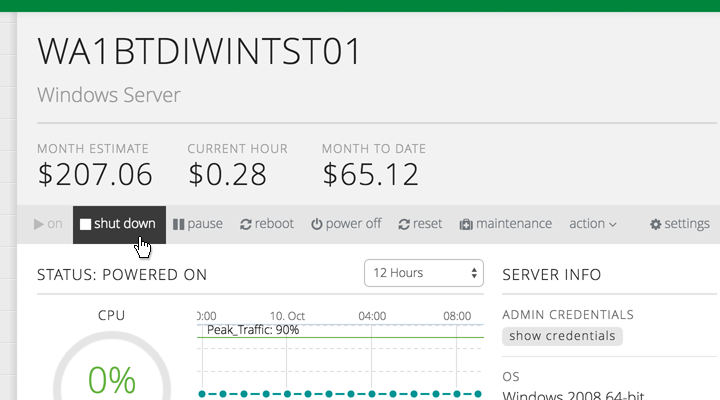 Easily Perform Power Operations
Our intuitive Control Portal allows you to access and control the status of your cloud servers via a simple power menu. Power Operations include Shut Down, Pause, Reboot, Power Off, Reboot and Maintenance.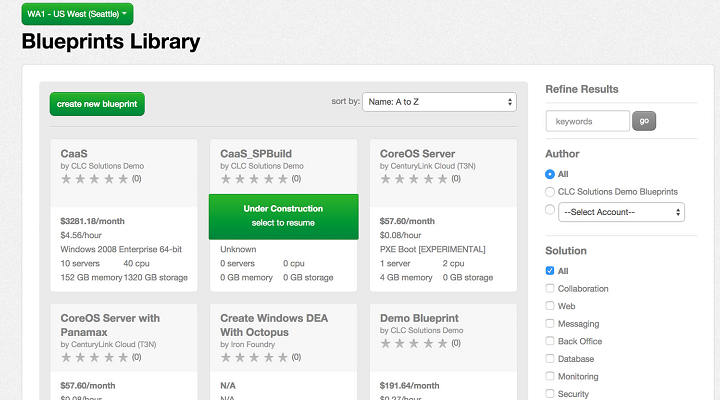 Blueprints for Complex Environments
Whether you need to run a simple script on a few servers, or repeatedly install Active Directory Domain Services on Windows Server 2012, or even need to perform a general availability update to your Linux environment across thousands of servers, it's all made easy with Blueprints and included in your CenturyLink Cloud account.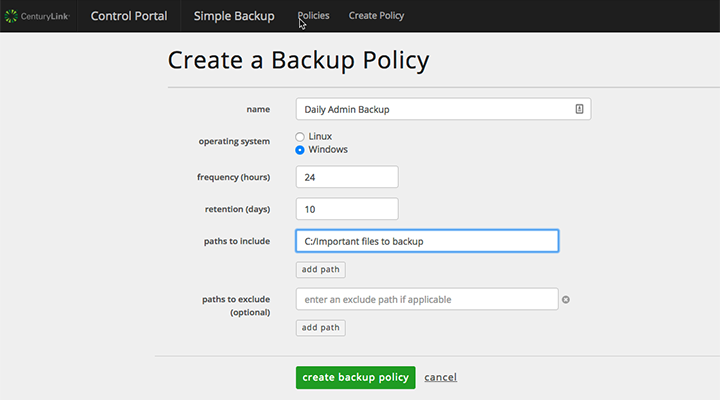 Integrated or Custom Backup Solutions
All Standard servers include five days rolling backups, while Premium backup offers 14 days of rolling backups, with copies stored locally and at a secondary regional data center. Important changes to Standard and Premium backup features are coming, including a new file-based option.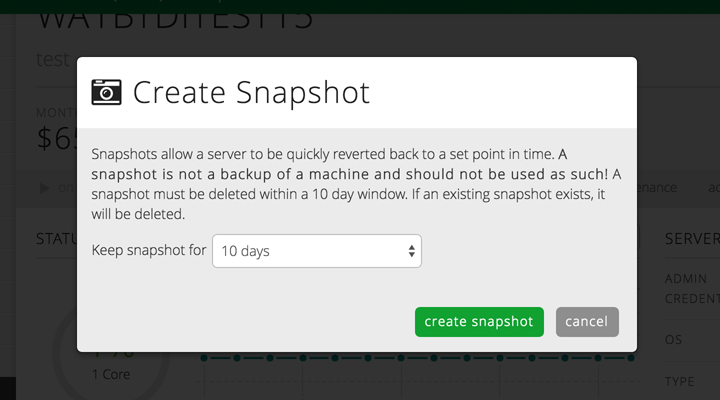 Cloud Server Snapshots
Take a snapshot of any cloud server (or Group of servers) when you reach a milestone to allow a server to be quickly reverted back to a set point in time. You can even set up snapshots to be taken at scheduled intervals, as well as control retention duration, up to 10 days.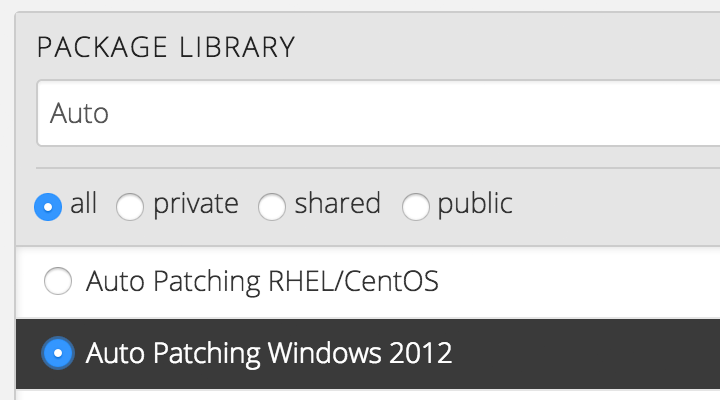 Automated Patch Management
For time-savings, enhanced security and reliability, deploy Patching-as-a-Service to automatically patch your cloud servers (individually or as a Group of servers) using either a Blueprint, script package or API. Ideal for longstanding virtual machines — where you need to be able to count on them over a long period of time — and mission-critical workloads.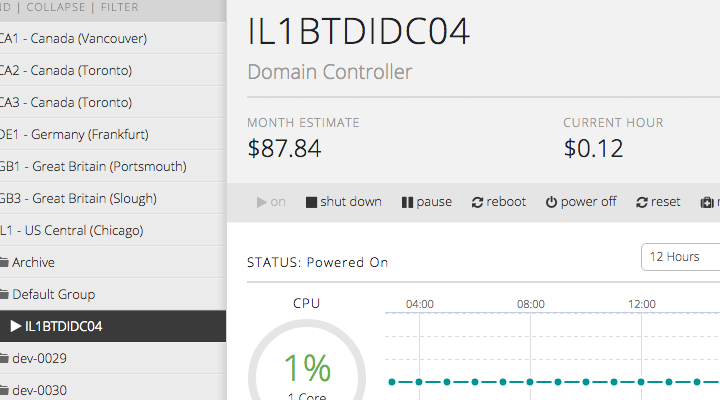 Security and Compliance
The CenturyLink Cloud was designed to be exceptionally secure and compliant, and includes at no additional cost many features that other cloud providers charge extra for. Our platform offers built-in "defense in depth" security and an option of automated patch management, to ensure your servers remain in conformance with critical OS vendor requirements.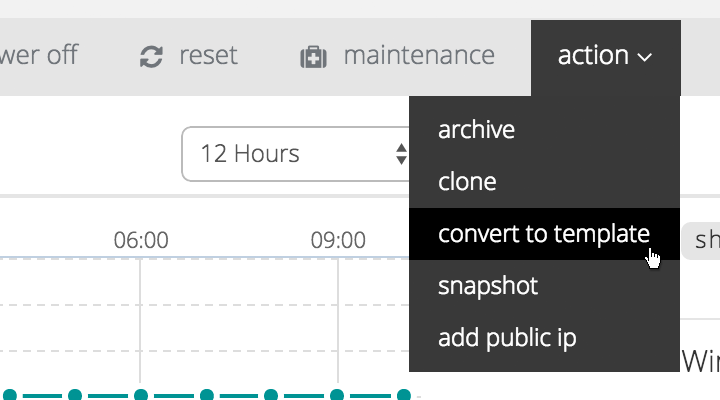 Define Your Own Baseline OS Templates
Create your own baseline OS templates for deployment of cloud servers within the Control Portal. These templates may include customization, software packages, security templates or other components.