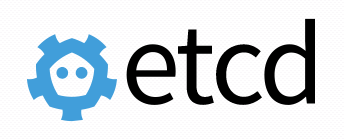 etcd
etcd is a distributed key value store for reliably storing data across a cluster of machines
etcd is a distributed key value store that provides a reliable way to store data across a cluster of machines. It's open-source and available on GitHub. etcd gracefully handles leader elections during network partitions and will tolerate machine failure, including the leader.
Your applications can read and write data into etcd. A simple use-case is to store database connection details or feature flags in etcd as key value pairs. These values can be watched, allowing your app to reconfigure itself when they change.
Advanced uses take advantage of the consistency guarantees to implement database leader elections or do distributed locking across a cluster of workers.
---
Features
etcd is a distributed, consistent key-value store for shared configuration and service discovery, with a focus on being:
Simple: well-defined, user-facing API (gRPC)
Secure: automatic TLS with optional client cert authentication
Fast: benchmarked 10,000 writes/sec
Reliable: properly distributed using Raft
etcd is written in Go and uses the Raft consensus algorithm to manage a highly-available replicated log.
---
Pricing
---
Support
Support for your software purchased via the Marketplace is rendered by the individual Software Provider. The CenturyLink Customer Care Team is unable to provide support for your software. However, if you are experiencing issues with the infrastructure that hosts your software, please open a ticket with
help@ctl.io
. Below you can find the contact information for support of this software.
---
End User License Agreement (EULA)
https://github.com/coreos/etcd/blob/master/LICENSE
---
By clicking the Agree & Continue button, you agree to the Provider's End User License Agreement (EULA) and/or Terms of Service associated with this software or service.
Not a customer? Register now.
---
Other Products by Open Source
---